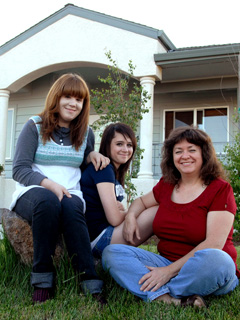 Mary Flowers and her daughters, Holly and Lindsay recently purchased a new affordable home in Redding's Parkview Neighborhood from Innovations Housing. While their new home was under construction, they lived in the Clover Creek Preserve Caretaker's Cottage.
Mary has worked at MariTech Industries for five years, Holly is a freshman at Shasta High School and Lindsay is spending her senior year in the College Connections Program at Shasta College.
Watch the recent Channel 7 Interview of Mary Flowers.